A number of activities to mark International Museum day (May 18) in Vietnam were introduced at a press conference jointly organized by the Ministry of Culture, Sports and Tourism and National Cultural Heritage in Hanoi May 16.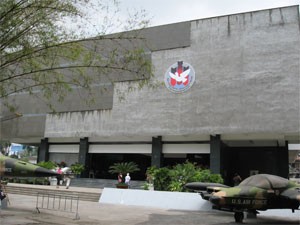 HCMC War Remnants is one among a few museums that  can attract a large number of tourists every day
The theme for this year's event is "Museums and Tourism." Museums will exhibit new collections or those demonstrating local important festivals, which will take place at the same time to attract more visitors.

Museums are also encouraged to cooperate with local tourist companies to introduce cultural heritage to local and international tourists.

Addressing the press conference, Le Thi Minh Ly, deputy director of National Cultural Heritage, emphasized that museums should take initiatives in proving their own cultural worth to tourism, by making their exhibitions special.
This will pave way for tourist companies to incorporate museum trips into their tour programs, added she.

Aside from enhancing the quality of their displays, museums are requested to enhance their services.

Only a few museums, including Ho Chi Minh, Ethnology, Historical Military and HCMC War Remnants are reported to have attracted a large number of visitors so far. The others do not operate effectively, although they are situated at convenient places in big cities.