Prime Minister Nguyen Tan Dung spoke highly of the initiative to launch a global voting campaign to find the world's most popular natural wonders while meeting with Founder-President of the New7Wonders Foundation Bernard Weber in Hanoi on Friday.
The Vietnamese Government chief also took the occasion to thank international friends who voted for Ha Long Bay to become a new world natural wonder.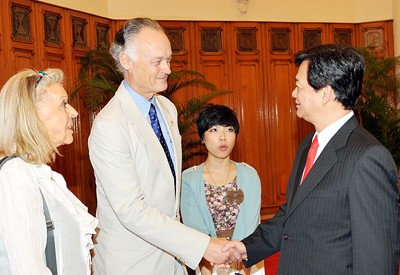 PM Nguyen Tan Dung welcomes New7Wonder Founder-President Bernard Weber, Hanoi, April 27, 2012 – Photo: VGP
He hoped that the New7Wonders Foundation would continue supporting Vietnam in its global campaigns and programs, particularly those on tourism promotion to lure international friends to the Southeast Asian country.
President Weber said the Foundation will help promote the images of the new seven wonders, including Ha Long Bay to the international community.
A ceremony for Ha Long Bay to receive the title of 'World Natural Wonder' is scheduled to take place in My Dinh Stadium, Hanoi on April 27 and in Quang Ninh Province on May 1.
On this occasion, President Weber will present two bronze steles to Vietnam, one in Hanoi on April 27 and the other in Quang Ninh Province on May 1.
By Hải Minh (VGP)