Final rounds of singing contests, Do Re Mi and 'Sao Mai Diem Hen' (Morning Star Rendezvous), will be aired in July.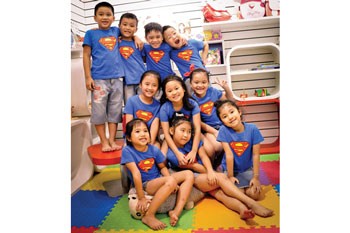 Contestants of Do Re Mi singing contest 2013.
The final round of Do Re Mi, an annual singing contest for children from years 4-8 , will be weekly broadcast on Vietnam Television's VTV3 channel on Sunday starting July 13.
Thousands of children from across the nation had competed with each other in audition round.
Singer Thanh Lam, music teacher Dang Chau Anh, musician Phuong Uyen, actress Thanh Van and actor Xuan Bac will be the event's juries.
The top 12 selected winners from across the country will take part in the final round of 'Sao Mai Diem Hen 2014' (Morning Star Rendezvous) singing contest to be televised on VTV6 channel starting July 4.
The 'Sao Mai Diem Hen' contest was first organized by Vietnam Television in 2004 and took a great success.

Young, talented singers nationwide have chance to perform their skills in fields of folk-singing, opera, pop, rock, etc.