A private collection of nearly 3,000 objects dating back as far as the twelfth century is on display at the Museum of Vietnamese History in Ho Chi Minh City until November.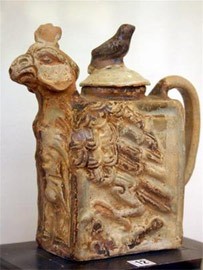 An object in the collection is displaying.
The antiques were collected over 18 years by Nguyen Duc Tung, who made many trips through the Central Highlands, particularly to Lam Dong Province, in pursuit of his passion.
Made of ceramics, glass, metal and gemstones, the pieces were identified as coming from China, Japan, Myanmar, Laos and elsewhere.
Tung's collection of ancient Go Sanh pottery is also of great interest to experts and fellow collectors.
The People's Committee of Ho Chi Minh City has announced it will provide the money to buy Tung's entire collection of antiques for posterity.