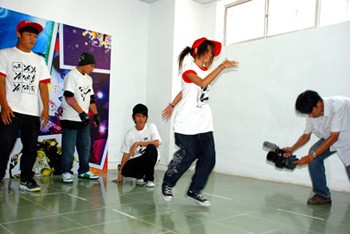 After broadcasting for four months, Yeah1 channel hasn't been an exclusive channel for teenagers yet. (Photo: Tuoi Tre News)
Many new television channels and programs have been started with an eye on the teenage market but have quickly been shown up to be shoddy and uninteresting.
New channels like Let's Viet, Today TV, HTV2, and HTV3 have come into the market with a focus on movies and game shows meant for teenagers.
Vietnam Television began VTV6 for them last year. After broadcasting some interesting programs like Van tay (Fingerprint), Khi nguoi ta tre (When they're young) and Toa tuyen an (The court pronounces sentence), things have taken a turn for the worse.
Huy, an eight grade student, said teenagers love to watch exciting programs but some programs on VTV6 are so boring and academic.
Thanh Tung, who has for long hosted teenage programs, said, "I like the way they design programs but they should make some changes to make it more interesting.
"VTV6 seems to focus on teenagers in rural areas and in the north, rarely a concern for southern teenagers."
Most teenagers had been looking forward to Yeah1 channel but they soon found it tiresome and boring.
Out of the 16 hours it broadcasts daily, most of the time it features music, photographers, and advertisements for expensive teenage products.
"At first, I was quite excited there would be a TV channel exclusively for us but I feel horrible now," Tuan Anh, 18, complained.
"The programs are monotonous and constantly rerun."
Many teenagers have complained on a forum the channel runs at www.yeah1.com.
Many of its programs are reportedly made in TV's equivalent of the blink of an eye though its technicians and artists are young and inexperienced.
A host revealed that sometimes his crew shoots two programs in an hour. "There is no way these programs can be interesting," he said.
A director who used to make teenage programs said though it is not easy to make shows for teenagers, it appears as if anyone can make them these days for TV.
The people making them have neither the skills nor professional experience, he said.