For the first time this year, the organising committee of the Lim Festival, which opened in Bac Ninh Province on February 3, will introduce a national record for the maximum number of quan ho singers participating in the event.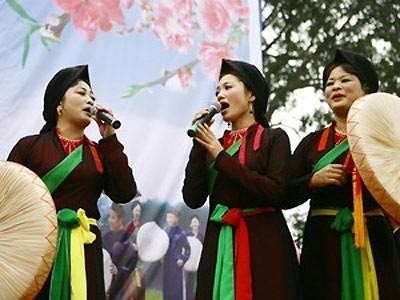 Quan ho singing
Thousands of visitors flocked to the festival, which will feature traditional rituals, quan ho (love duet) singing, and folk games such as swinging, wrestling, calligraphy writing and poetry recitals.
According to the organising committee, the idea of setting a Vietnamese record at the traditional festival for the highest number of people to wear the quan ho distinctive costume and sing quan ho duets was thought of a few months ago and received approval from many people.
The organising committee estimated that there would be 2,012 people who would wear the quan ho costume and sing quan ho duets at the event, but on February 4, the number of people registered for the event numbered 3,500!
At the foot of Lim hill, 3,500 people sang quan ho, a Vietnamese folk music style originated in what is now Bac Ninh Province during the 13th century.
This is the first time Bac Ninh Province has organised a national record for the Lim Festival. The idea was initiated by the Department of Culture, Sports and Tourism and the Association of Quan Ho Fans.
Quan ho was recognized as an Intangible Cultural Heritage by UNESCO in 2009, and has traditionally been associated with spring festivals such as the Lim Festival that follows soon after the Tet Lunar New Year, on the 12th and 13th of the second month on the lunar calendar.