For centuries, Lim has been one of the most important Vietnamese traditional festivals. It takes place every year on the 13th day of the first lunar month in the village of Lung Giang (also known as Lim), 18 kilometers from the center of Ha Noi in Noi Due Commune, Tien Son District, Bac Ninh. Thanks to the participation of more than fifty Quan Ho villages in the area, Lim is well and truly the country's leading quan ho folk festival.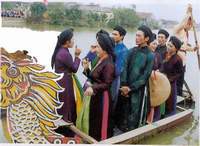 The Quan ho folk-song performances take the form of a dialog between lien anh and lien chi.
Tens of thousands of people go there every year to hear quan ho performed by lien anh (male quan ho singers) and lien chi (female singers) in public squares and pagodas, on the hills, and in the dragon boats on the water. The singing takes the form of a dialog between lien anh and lien chi, who converse with elaborate questions and answers.
Being there is the best way to experience quan ho and learn all about the art form. Its importance can be gauged from the fact that the Ministry of Culture and Information has asked UNESCO to recognize quan ho as a Heritage of Humanity.
Besides folk songs in abundance, the Lim Festival includes worshipping Hieu Trung Hau (the legendary founder of quan ho), and the village's spiritual protector along with human chess, tug-of-war, cock-fighting and other fun and games.
This year, the biggest village festival in Bac Ninh took place from the 11th to the 13th of the first lunar month (February 27 to March 1 in the solar calendar).