Ninh Hiep village in Gia Lam District in Hanoi is also famously known as a medicine and fabric village and was once the former home of four queens.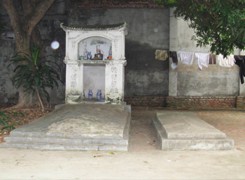 The empty tomb of Queen Le Ngoc Han, next to her mother's tomb at Ninh Hiep Commune's Cay Dai graveyard in Hanoi.
Queen Nguyen Thi Huyen, was the beloved wife of King Le Hien Tong. In 1770, she gave birth to Princess Le Ngoc Han who grew up to become a talented and beautiful woman. She married the national hero Nguyen Hue when she was only 16 years old. The marriage led to a peaceful unification of the central Vietnamese Tay Son region and the northern Le dynasty.
Nguyen Hue became Emperor Quang Trung in 1788 till his death in 1792. Queen Ngoc Han followed him seven years later when she was just 29 years old. She and her two  children were buried in Cay Dai graveyard in Ninh Hiep from 1804-1843, but due to a deep animosity towards the Tay Son Dynasty, King Thieu Tri of the superseding Nguyen Dynasty ordered workers to throw the remains of Han and her children into a river. Locals in Ninh Hiep adored their former queen and continued to worship her by building an empty tomb of her and her two children next to her mother's tomb in Cay Dai graveyard.
The third queen hailing from Ninh Hiep, was Princess Ngoc Binh who was adopted by King Le Hien Tong. She later became the third wife of King Gia Long, founder of the Nguyen dynasty in 1802, following the fall of the Tay Son dynasty.
The fourth queen was the mother of Princess Ngoc Binh. Little is known of her, but in the Le family annals, Nguyen Thi Dieu, mother of Princess Ngoc Binh was once the imperial concubine of King Le Hien Tong.
The Association for the Preservation of Thang Long Hanoi cultural heritage decided in 2009 to launch a programme to build a memorial for Queen Nguyen Thi Huyen and Queen Le Ngoc Han and her two sons. The memorial was completed in time for the 1,000thanniversary celebrations of Thang Long in Hanoi. Built in the Nanh Hiep commune, 20 kilometers from Hanoi, it is a profound gesture of respect by Hanoians for their former Queens.
 
In the past, Ninh Hiep village was the cradle of culture in Kinh Bac (an old name for the region north of Hanoi). The village houses 23 relics of historical and cultural value, which include communal houses, temples, pagodas, shrines and places of worship. Five of these have been designated national heritage sites by the Ministry of Culture, Sports and Tourism. The village is made up of five hamlets, specializing in a particular trade. Each hamlet has its own temple dedicated to its patron saint. The biggest pagoda is Nanh Pagoda, also knows as Ca (eldest) Pagoda. It has a rich history behind it.
Thousands of travellers and traders visit Ninh Hiep village every month, some come to buy cheap and good quality fabrics and others come to experience the hidden charms of the village full of ancient temples and pagodas.