More than 300 Vietnamese record holders will gather at Ho Chi Minh City's Dam Sen Park this Sunday for the seventh of the annual meetings and public shows arranged by the Viet Nam Guinness Book Center of Vietbooks.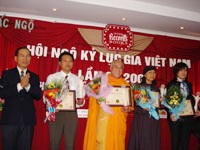 The 6th meeting of Vietnamese record holders took place in November 2006.
On the entertainment front, visitors will be able to watch acts like mimicking various tones and pumping air into a tyre using only the eyes.
The objects on display will include the biggest kylin head in Viet Nam, a chart showing the names of record-setters and their mighty deeds, another showing the recipients of the Record Certificate of Viet Nam, and the Vietnamese Record Directory containing photos and information about the 339 records set since 2004.
Plans are afoot to establish a national record holders club and build a museum in Ho Chi Minh City's Binh Chanh District to exhibit and store record-related objects, writings and photos. The details will be announced at Sunday's gathering.
The organizers will also announce the formation of the Vietnamese Record Forum, whose purpose is to bring together record holders, entrepreneurs and investors in the hope of turning creative ideas into commercial reality.