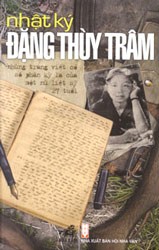 Dang Thuy Tram Diary
The Los Angles Times last week carried an article praising the "Dang Thuy Tram Diary", saying that it has been a best-selling book in Viet Nam since the war ended in 1975.
Tram was a doctor who managed a health clinic in Duc Pho district, central Quang Ngai province, during the resistance war against the US .
"Now, more than 35 years later, she [Dang Thuy Tram] has come to life again with the publication of her diary. Written in the field hospitals and foxholes of the Viet Nam War, its honest portrayal of a young woman seeking love while eluding the American pirates has made it a runaway bestseller in Viet Nam ," said the article by writer Richard C. Paddock.
In his article, Paddock reviewed the magic and happening journal of Tram's diary over the past 35 years. A copy of the diary was handed over to her family last year by the Vietnam Center at Texas Tech University .
The writer considered Tram's diary as "The Diary of Anne Frank" in Viet Nam . He said. Tram's heartbreaking journal had the same kind of personal insights and observations on the hardships of daily life, overlaid with a sense of impending doom. "At times, she comes across as a romantic schoolgirl seeking love from the boys around her, at others like a battle-hardened veteran who wants vengeance against the foreign invaders," the writer said.
He noted, "An emotional account of sacrifice, love and bloodshed, the diary humanizes an enemy of America once demonized as ruthless and sneaky. The young doctor, sometimes addressing herself by name, confides her hopes, ambitions and fears. At times, she is overwhelmed by the death of so many people she knows and the destruction wrought by the Americans' awesome firepower."
Dang Thuy Tram was killed at the age of 27 in an American assault after serving in a war zone clinic for more than three years.
According to Paddock, an English-language version is scheduled for release in the United States next year.--

Source: VNA