A delegation of 110 members of an arts troupe from Russia, the "International Children's Creative Camp Nuckids 2011", will arrive in Vietnam for an opera performance from August 14-18.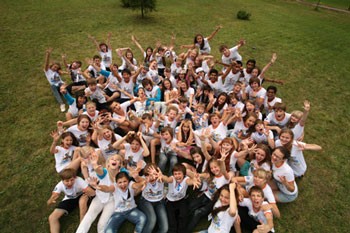 Members of the International Children's Creative Camp Nuckids 2011
They will present a play titled "Bunker of Freedom" which is based on a real live story in Moscow in the 1980's. An underground bunker built in 1954 near the Taganskaya metro station in Moscow has become a home for many deserted and homeless children. They have a common desire to live peacefully and help each other. The play is based on their story.

The play's title translates Khong Gian Hanh Phuc in Vietnamese, meaning 'Happy Space' aims at conveying a very compassionate message to the Vietnamese children.

The performance will start at 8pm on August 17 at the Au Co Arts Center, 8 Huynh Thuc Khang Street in Hanoi.
The "International Children's Creative Camp NucKids" is organised annually by the Russian Federal Atomic Energy Agency for the last three years. This year's camp brings together 73 talented children from different countries namely Russia, Ukraine, Bulgaria, India and Vietnam.