The Russian Emperor Piano Duo of Maxim Mogilovsky and Svetlana Smolina will present a virtuoso recital of solo and duet works in a special edition of the 10th Hennessy Concert Series at the Ha Noi Opera House on March 13.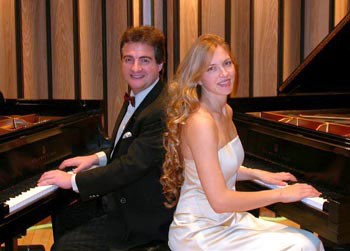 The pianists Maxim Mogilovsky and Svetlana Smolina.
The husband and wife team will open the concert with variations based on a theme from Tchaikovsky's opera "Eugene Onegin", transcribed by Paul Pabst.
The program will then continue with a concert suite from the ballet "Nutcracker" by Tchaikovsky-Pletnev to be performed by Ms. Smolina. Mr. Mogilovsky will then end the first half of the concert with Franz Liszt's "fantasy on two motives" from the opera "the Marriage of Figaro" by Mozart.
After an intermission, the show will continue with piano suite No 2 for four hands, Opus 17, by Sergei Rachmaninoff., and the concert poem La Valse by Maurice Ravel in the original version for two pianos.
The world renowned pianists are direct descendants of Russia's traditional school of piano playing. The couple spent several years studying in the U.S and find "the idea of juxtaposing Russian and American music fascinating".
Created by the late director Wes Benson, the Hennessy Concert Series debuted in 1996 with a solo performance by legendary Russian cellist Mstislav Rostropovich. The series has brought several top artists to Vietnam including pianists Jean-Yves Thibaudet, Lambert Orkis, and Lang Lang, violinists Hilary Hahn and Julian Rachlin, opera singer Barbara Bonney and others.
The concerts are co-organized by Moet-Hennessy Asia and the Vietnamese Ministry of Culture and Information.