Russian pianists Vladimir Ashkenazy and his son, Vovka Ashkenazy, will perform at the 18th Hennessy Concert at Hanoi Opera House on March 20.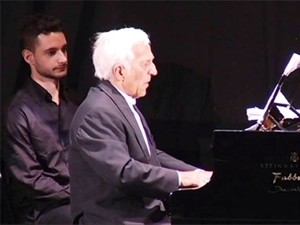 (Phto:SGGP)
Vladimir Ashkenazy, 77, spent more than 50 years composing classical music during his lifetime. He is most famous for conducting and playing piano simultaneously. A few of his masterpieces have been used for television and education.
Vovka Ashkenazy was introduced to music at six years old. He's performed in Europe, Australia, New Zealand, Japan and the Americas. He's taught at conservatories in the UK, France and Switzerland.
Created by director Wes Benson, the Hennessy Concert Series debuted in 1996 with a solo performance by legendary Russian cellist Mstislav Rostropovich. The series has brought several top artists to Vietnam.
The hosts of the series are Moet-Hennessy Asia and the Vietnamese Ministry of Culture and Information.