Photographer Nguyen A's photo "Sai Gon After the Rain" was awarded first prize at a recent photo contest themed "Environment Around Us, Life Around Us".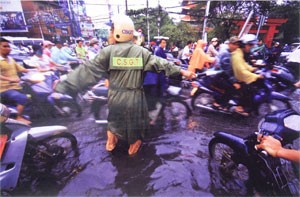 Nguyen A's photo "Sai Gon after the rain"
Nguyen A captured a chaotic moment in the streets of Sai Gon after a rain. A traffic cop stands in a puddle apparently slick with oil as he tries in vain to control traffic around him.

The contest was co-organized by the Department of Environmental Protection under the Ministry of Natural Resources and Environment and the Viet Nam Photographers Association.

After six rounds, the jury chose twelve photos for the finals, including "Sai Gon After the Rain".

Some 144 out of 3,621 entries were chosen for a display in Ha Noi over December 20-25.