The "Sea Festival 2009 - Nha Trang Best Destination" is running a series of pre-festival events before its official opening on June 6, the Khanh Hoa provincial government announced recently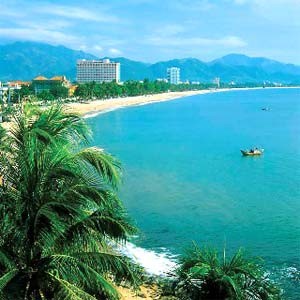 The peaceful beauty of Nha Trang city, which promises to impress visitors who are there for the first time
Sea Festival 2009 is an important cultural festival, organized by the south central costal province of Khanh Hoa and France's department of Morbihan every two years in the city of Nha Trang.  
The city is considered to be one of the most beautiful and hospitable coastal cities in the south.  
In preparation for June 6, officials have planned 12 events to introduce general information about the province to foreign tourists.  
The festival is expected to bring about an air of happiness, pleasure, solidarity and friendship among locals and peoples from overseas countries, a spokesperson from the provincial government said. 
The program of the pre-festival events:
                               Activities

      Date

      Venue

1. Singing exchange between cities and provincial colleges and universities

May 16-17

2/4 Square

2. Tennis tournament between province, city and other cities' leaders

May 18

Tennis course

3. A concert: "Bai ca dang Bac" (Songs tribute to Uncle Ho)

May 19

2/4 Square

4. Ethnic children festival of the south central coastal provinces of Khanh Hoa, Phu Yen and the southeastern province of Ninh Thuan

May 31
- June 1

Provincial children's house

5. Garbage collection by volunteers from Nha Trang city

June 4

Nha Trang beach

6. National beach football tournament

June 5-15

Beach in front of Que Huong Hotel

7. Light festival

June 5-12

Tran Phu street

8. Vietnam's high quality products fair

June 5-12

Youth Park

9. Sculpting a metal harp - visitors can watch the harp being sculptured

April 12
- June 5

Khanh Hoa Museum

10. Sculpting works of waste metals – visitors will be able to sculpt art work themselves

April 12
- June 5

Nha Trang Culture, Art and Tourism College

11. Antique display

June 5-12

Khanh Hoa Museum

12. Artistic paintings display

June 5-12

Seaside park
Sea Festival 2009 will take place from June 6 to June 12, with more than 60 cultural activities, and traditional and contemporary arts in order to highlight the potential and achievements in Vietnam and France.