The second day of the Hue Festival June 6, visitors moved from the noisy center city of Hue to the Huong Thuy District 20 kilometers away, to take part in rural market on festival days, an activity that has attracted a huge number of visitors this year.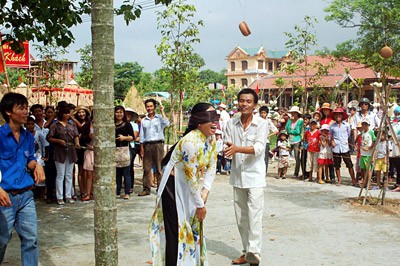 Visitors enjoy a traditional game at the rural market festival days. (Photo:SGGP)
The event, a part of activities heralding the 2010 Hue Festival, was held at Thanh Toan village, Thuy Thanh commune, Huong Thuy District to preserve the specific cultural traits of the Vietnam's countryside.
At the opening ceremony, thousands of visitors gathered at the festival for the chance to become farmers for a day.
The festival displays featuring simple and natural banian trees, river wharf and market-day, create a space of village culture.
Highlights from the festival include an exhibition on farm tools and a section reflecting daily life in the countryside and the tile-roofed Bridge Village, built in 1776.
At the festival days, visitors can see objects on display such as ploughs, sickles, hoes, rice-hulling mills and pictures of wet rice civilizations.
Visitors also enjoy traditional food in Hue such as nam cake, loc cake and rice spaghetti with fish with music performances.
On the same day, the organization opened a program "Huyen thoai song Huong" (Legend of Huong River).
The program portrays the dinghy culture of the Nguyen dynasty with 20 dragon boats.
Visitors travel along the Huong River, from Truong Tien to Bach Ho bridges. The boat cruises gently past several scenic areas of Hue, while feasting on traditional cuisine, accompanied by music.
A program entitled "The Breath of Water" that takes place on a 1,500 square-meter floating stage on Tinh Tam Lake opened June 6.
The play tells a romantic love story about the separation and reunion of boys and girls in the dynastic era. Young talents like Linh Nga, Quynh Lien and Xuan Chien will play the leading roles.
The 75-minute "The Breath of Water" highlighted traditional musical arts that are recognized by UNESCO as part of intangible cultural world heritage – nha nhac (Hue royal court music), ca tru (ceremonial music) and quan ho Bac Ninh (Bac Ninh love duets).