An outdoor exhibition featuring more than 50 photos of Viet Nam's beautiful landscapes by Serbian photographer Slavko Jankovic, head of  the Viet Nam Airlines' 919 aircrew, is taking place at the Lam Son Park in Ho Chi Minh City's District 1.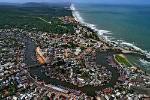 Jankovic Slavko's photo of Viet Nam's scenery from 50m height.
Photographer Slavko Jankovicwho has taken hundreds of photos of Viet Nam won second prize in the "Snap shot of Viet Nam" photography contest in 2004.

He has also won an award from the New York Photography Institute for his works, which includes photographs that have all been shot from airplanes.
The exhibition, held by Ho Chi Minh City Exhibition Information Center lasts from now until April 6.