Hopes are high for the future of Vietnam's film industry after the Short Film Festival – Kite Awards 2008 named nation's top 10 short films.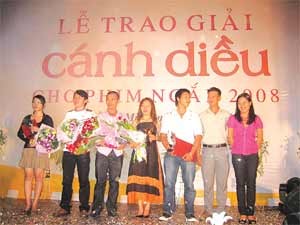 The winners of the Short Films Festival – Kite Awards 2008 at the award ceremony (Photo: SGGP)

The top honor of the Short Film Festival – Kite Awards, the Golden Kite, went to 'Bong Roi' ('Shadow of the Fear'), a film about the fear people make for themselves.  
When asked about the concept of the film, director Nguyen Thi Thuy Giang said: "Everyone has their own fears about desire and lust that they hardly show to anybody else. The most important thing is that these fears will lift when the person dares to show them to other people and dares to start a new life."  
Directors Phan Hong Thanh, Nguyen Thi My Dung and Huynh Trung Hieu received bronze awards for their films: 'Di Ve Noi Hoang Da' ('Go Towards the Wild Place'); 'Khe Ho' ('The Gap'); and 'Anh Ao' ('Virtual Images'). 'Di Ve Noi Hoang Da' draws a picture of a love triangle, 'Khe Ho' focuses on sexual deviations and 'Anh Ao' attracts the audiences with its movie magic. 
The two consolidation prizes went to 'Nhung Vong Xe' ('Wheels') by Le Hoai Vu, which talks about people who have a complex about their poor lives, and 'Bo Cau Khong Dua Thu' ('Pigeons Don't Deliver the Mail') by Pham Tran Bao Quyen, which is described as a funny modern love story.  
Among four certificates awardees, Huynh Vinh Son quietly satisfied local cartoon fans with his 'Tho Va Rua' ('Rabbit and Turtle') and Vo Anh Can impressed viewers with 'Hanh Trinh Cai Mu' ('The Itinerary to Change the Decision of the Midwife'), a story about a girl who was born a boy and always desired to change her body. 
As well as attracting positive comments about the creativity and quality of the films, the festival won the hearts of local viewers and brought a wind of hope to the local short film industry.