The Singaporean idol Leon Lim arrived in Ho Chi Minh City for a one night performance on May 23. SGGP caught up with the singer to discuss his show and his music.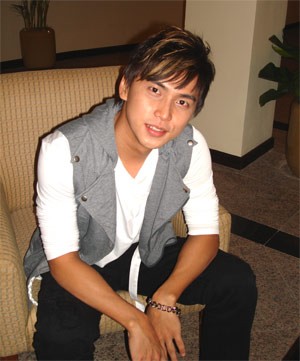 Besides singing, Leon also acts and composes (Photo: Truong Son)

You took up singing at the age of 14 and have achieved success in various music competitions since 2004, but you have yet to release a debut album. What's taken so long?

The biggest reason is that I'm a perfectionist. After success on Singapore Idol in 2004, I always remind myself not to sleep on that initial success and to continue to try my best to entertain my fans. Especially for my debut CD, I want to save all the best for it, since I believe that the first is the most important. 
But, I have already released some singles and compilations albums to let my fans know that I'm still there for them. In recent times, I'm so busy with other tasks besides singing, like composing songs for other artistes and for movies and TV dramas. That takes me a lot of time.   
Could you tell our readers more about your composing?


Yes, of course, that's my pleasure. I composed the instrumental opening theme song for the eight-part TV drama series "Happily Ever After," by Jack Neo's production company, which were on screened on OKTO in early March. Before that, I also was the guest star and performed the theme song (composed by me) for the movie "Yan Hua San Yue" (Fireworks in March), directed by Huang Yi Liang  
Is it difficult to compose soundtracks? What was your inspiration for "Happily Ever After"?

At first, the director sent me the script and asked me to compose a song for the drama. It has a sad ending. The story is basically about trust. Trust between husband and wife, trust between boyfriend and girlfriend. Trust is the key to "living happily ever after…"  
The director asked me to compose a happy song with a sad feeling, because you know, it's not really happily ever after for the drama. And he required me to complete it within only one week. Woah, it was really a big challenge for me. But, I said, "Okay, I will try my best" 
As for the inspiration, I listened to some music with similar contents and feelings from Hong Kong dramas.
You were in a film?

Yes, I'm so glad with that opportunity. I was invited to appear in the art film "Invisible children," by director Brian Gothong Tan. It's my first movie. I feel a little bit of regret for the film, since it did not come to screen in the cinemas but only debuted at Sinema Old School.  
How about the NGs by yourself? What are NGs?
(Laughs), now you ask about NGs… well, let me see, the funniest NG is the scene where I did 20 press-ups. I had to replay that scene five times. So, in total, I did press-up 100 times. At that time, I felt like I could hardly do anymore. It's really terrible.
Another one is in a scene that I read a letter and try to be calm. But, you know, when I opened the letter, I saw much funny stuff like "Leon, stop acting, don't laugh….etc.." I wanted to laugh out loud but I tried to control my face to be so stressful. That's another funny experience in the filming
 
This is your first visit to Vietnam, and your first duet with a Vietnamese. What do you make of the experience?
In fact, this is the second time that I have been in Vietnam. The first time is in 2008 when I came for a performance in the 'Miss World 2008 International Artist Exchange Program.'  
For this visit, I feel so excited, especially when meeting and duet-ing with a beautiful girl like Minh Hang. We really had a good time at the first recording session. After this interview I will continue another recording session with her. 
How about the song?
It's a song in Chinese, but the name in English is "Around the world." It's totally a fresh song and I hope all you like it. 
Do you intend to later perform the duet in Singapore?
Yes, I'm willing to do that but it must depend on the copyright. It would be great to help promote the voice of Minh Hang in Singapore.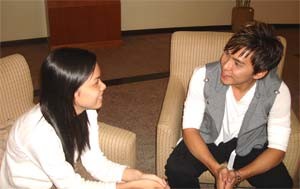 Leon with a representative from Cat Tien Sa Media (Photo: Truong Son)

What do you think about Vietnamese showbiz and the possibilities for them to promote their music worldwide?

I cannot say too much about your showbiz since I do not have enough time to see it all. But, according to what I saw, I believe that your showbiz is speeding up quite fast and growing much, much bigger. That's a good sign.  
About the Vietnamese artistes, I think all of them are great. They are handsome guys and beautiful women with amazing voices. I think the major obstacle that most Vietnamese singers meet when they come abroad is the language barrier. Besides that I hardly find any other reason that you singers cannot come and promote their music to the world. 
And what of your debut album?

I want to save all my new songs for the debut CD. But, I do not want to loose contact with my fans. So how can I do this? Finally I decided to cover some songs for fun and posted them on facebook and my blog to keep up with my fans. I always want them to know that they are in my heart.  
My debut CD will feature various genres like R'nB and Soul. In China, there is variety of genres on a CD of the artiste. On the CD, I want to express the way I feel, my messages to people and some stories about the love between people. It will be released next year but the date is yet to be announced.
Leon Lim, full name Leon Lim Yu Zi, started learning Pop Vocals (Beginner) class from 'Ocean Butterflies' at 2003 and continued Pop Vocals (Intermediate and Professional) classes at 'Virtuoso Arts' under the guidance of Wu Jia Ming.

Leon achieved some success on "Singapore Idol," Top 12 at "Project Superstar Season 1." In 2007, Leon penned his first song, 'Give Me My Life' and was released on a compilation album, 'ARC Genesis'.

Currently a diploma student of Audio Engineering at SAE Singapore, he will graduate very soon this year.

Leon has also been recording cover and original songs at home and uploading them on his personal blog at www.reonu5142.blogspot.com. Or, for information, fans can visit his facebook page: http://www.facebook.com/pages/Leon-Lim-Yu-Zhi/27236453719#/pages/Leon-Lim-Yu-Zhi/27236453719?v=wall&viewas=0
Related article:

International teen music series to kick off