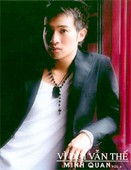 Singer Minh Quan
In the "Open Concert" live musical program of KBS Television which named "Convergence of Asian Singing Voices" on the occasion of New Year 2006, Singer Minh Quan was representing Viet Nam, together with a saxophonist Itoh Taheshi (Japan), singer Lou Zhong Xu (China).
KBS productions have kept an eye on Minh Quan ever since, and they have recently invited him to take a part in their productions.
If agreed, Minh Quan will be taking part in a cast for a film about teenagers. In this film, Minh Quan will be playing a rich Korean student, who studies at an International University in Viet Nam and falls in a love triangle with a Korean girl.
Minh Quan says, "I am very happy with KBS's invitation. But we are talking about the future here, and I can not say much about this for now. This year, I will be focusing on the release a new album".