The sixth Dep (Beauty) Fashion Show, this time entitled "Urban Inspiration", is to be the biggest annual fashion event to take place December 28 at the Ho Chi Minh City Television Theater.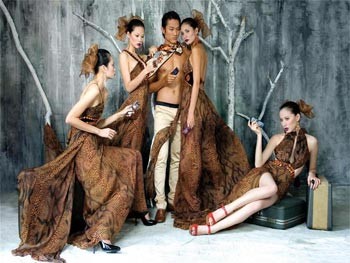 A collection of fashion designer Nguyen Duc Duy.
The fashion show is to be a harmonious melding of fashion and architecture inspired by minimalism and modernity in the tradition of famed Japanese architect Tadao Ando.

The show is to feature renowned Vietnamese fashion designers' latest collections, including "Lonely" by Do Manh Cuong, "The Mask" by Hoang Ngan, "The Stars" by Nguyen Duc Duy, "Four play" by Truong Thanh Hai, "Rhythm of life" (Nhip song) by Mai Lam and "The bass note in the night stave" (Not tram trong khuong nhac dem) by Vo Phan Huy.

On stage will be top models including the likes of Ho Ngoc Ha, Ngo Thanh Van and more than 70 beauties from Professional Look and La La.

The show, co-organized by Dep Magazine and Le Media Joint Stock Company, is sponsored by the makers of Sam Sung, Lancome and Relligio.