The sixth Regional Arts Exhibit is being held at the Ho Chi Minh City Fine Arts Museum, 97 A Pho Duc Chinh Street, District 1 from now until August 15.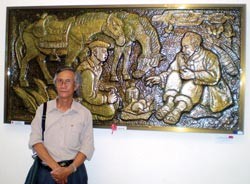 Artist Phan Van Thang and his work.
The display includes 116 works including wooden, stone and bronze sculptures, lacquer, silk and water-color paintings by 81 artists.
The organizing board awarded "B" prizes to a work with the theme "Meals of Ong Ke – Uncle Ho" of Phan Van Thang and "Simple happiness" of Ho Minh Quan. "C" prizes went to "Living space" by Le Thanh Thu, "Long Hai fishing port in the afternoon" by Tran Van Hai, "Five Points of View" by Luong Luu Bien and "The Sound of the Forest" by Dinh Ru. The Viet Nam Fine Arts Association awarded 19 certificates of merit.
The seventh regional arts exhibition will be held on August 8 in the Southeastern region, the eighth in Mekong Delta province of Ben Tre on August 11 and will then move to the Central and Northern regions.