Decree 90/CP dated August 21, 1997 by the Government on the participation the private sector in education, healthcare and culture has made several changes in our society and culture. What is happening to the participation of the private sector in cinematography when Cinematography Law is approved soon and Viet Nam is on the eve of joining the World Trade Organization?

Participation of private film companies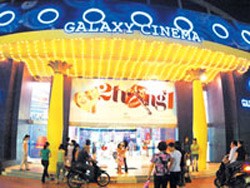 Galaxy cinema attracts lots of the audience.
Private film companies came into operation along side with state-owned ones in 2003. According to Mr Tran Luan Kim, President of the Vietnam Cinematography Association, the country has about 40 private film companies, among whom 33 are in Ho Chi Minh City (HCMC). However, they do not produce as many films as expected.
Though some companies like Thien Ngan (Galaxy), Phuoc Sang, BHD, Hoan Khue, Lasta, ViFa, Chanh Phuong, A My (Asia America), A Chau (Asia), Ky Dong, Phuong Nam (Southern) and VietFilm have been operating in film production business or investing in cinemas, the others have changed their business activities to TV commercials, post production services, voice recording or just "stood still".
The private sector helps with building film studios, cinemas, cinema facilities and equipment, film import and export. Beside film studios of average scale built by BHD, Chanh Phuong, the construction of a big studio has been in progress in Binh Duong by Tri Viet Media Joint Stock Company (TVM) to anticipate the development of cinema-television technology in the future.
Digipost, a Vietnam Singapore Post Production Joint Venture Company, is operating in HCMC with a strategy of offering post-production services. Film companies have often had to go to neighboring countries for the services, increasing the film costs. 
The race is on for building new multiplex cinemas after HCMC Cinematography Joint Stock Company is preparing a cinema development strategy, Phuong Nam Culture Joint Stock Company and Envoy Media Partners Limited (US) start a joint venture for a multiplex cinema to be opened in Ha Noi in April and several more in other provinces in a near future.
Besides, HCMC-based film company Thien Ngan (Galaxy) and US film studio Warner Bros International Cinemas announced plans on March 14, 2006 to build and run several US modern multiplex cinemas in Vietnam in 2007. 
Glad…but worried

"Cinematography is both an economic and art activity. Viet Nam's cinematography transition from state subsidy to the participation of the private sector slightly opens several good developing aspects. However, the State should have plans to deal with disorderly situation easily happening in this stage," remarked Mr Khai Hoang, a former official at Giai Phong Film Studio.
Mr Bui Dinh Thu of HCMC Cinematography Joint Stock Company has a positive view about the transformation resulting from the participation of the private sector. Several real life situations and trends of economy reforms affect lots of life aspects, among which are cinematography activities, including production, publication and distribution.

New metropolitans will be developed in the future and economic development usually goes along with demands of arts, culture and entertainment. Therefore, the establishment of multiplex cinemas in new metropolitans deserves more attention. It is also the experience from Republic of Korea and China.
On the other hand, when international cinematography groups are knocking on our doors, Vietnamese cinematographers have to find a right business model rather than to complain.
In such a circumstance, Vietnam cinematography should have a good preparation, a right strategy and better trained human resources.
The transformation of Viet Nam cinematography in recent years has proved that the participation of the private sector has led to the developments of cinematography.
However, in order not to make hesitative and anxious steps in new stage, cinematographers look forward to new regulations and policies on protecting Vietnamese cinematography as well as proper rules from Cinematography Laws coming soon.