At the age of 75, artist Dương Văn Học, who is well known as a pioneer in contemporary solo puppetry in Việt Nam, is still busy performing, teaching and writing about puppetry and managing a small "puppetry museum" in the coastal city of Nha Trang in Khánh Hòa Province.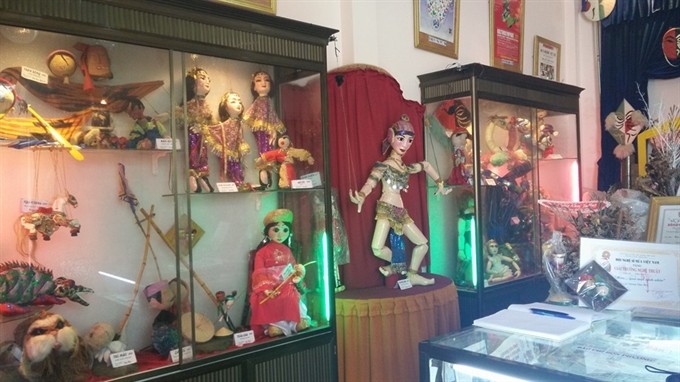 Come say hello: Puppets are displayed at Học's museum. He considers them as friends and want to introduce them to more people.
Early this year, his private "Contemporary Solo Puppetry Museum", the first of its kind in the country, was opened at his house on 92B Dương Hiến Quyền Street, Nha Trang City.
The museum is said to be a long-nurtured dream of Học who has identified himself with puppetry for over 30 years.
During the early stage of his career, Học used to work as a dance scriptwriter and stage director. In 1984, he began working at the Việt Nam Puppetry Theater where his passion for the art blossomed.
He pioneered and introduced contemporary solo puppetry in 1992, and so far is the only local pursuer of the art.
His newly-established "museum" has a modest area of 50sq.m, where he is displaying more than 120 puppets.
Most of the puppets are shaped after Vietnamese heroes and animals that the artist has crafted and performed with across Việt Nam and in tens of other countries over the past two dozen years.
The puppets of various sizes and types, in different colours and patterns reflect multiple characteristics or points of view.
Học said that like life, puppetry contained the good, the bad and the combination of good and bad.
"Each of my puppet shows must deliver a message relating to a certain view of humanity, the world and life," Học said, adding that this was the key to attracting audiences and gaining their hearts.
Audiences, both local and foreign, have been impressed by Học's shows, including The Boat on a River, The Death of a Swan, The Clown, Girl or Spider and Behind the Eyes.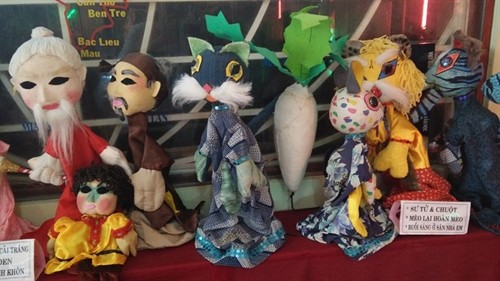 Diverse collection: Puppets are displayed at Học's museum. He considers them as friends and want to introduce them to more people.
When recalling past performances, Học remembers 20 years ago when a Korean viewer was moved to tears after watching the show The Boat on a River.
The puppet show presents two rival crews fighting on the same boat. The boat staggers, fails to dock and is almost stricken by big waves.
Some audience members told him that they saw themselves and their situation in the puppet show, Học said.
"I want to bring reality into puppet shows as I see many similarities between them," Học said.
He revealed that occasionally he spent sleepless nights making puppets and writing scripts. Sometimes, it took him a few months to complete the puppets and script for a new show, he said.
"Modern life develops to become more and more complicated, which forces puppetry and puppet performers to change to be able to catch up with it," he said.
In 1998, Học performed The Death of a Swan in Paris. A viewer met with Học and said he would pay US$500 for one of Học's puppets.
Học refused and said, "If you like, I will make another puppet for you. This puppet is a friend of mine. I cannot sell my friend."
Vietnamese puppetry
Học said that it was a great happiness for him when visitors to the museum felt it interesting.
A group of Russian tourists on their trip to Nha Trang happened to know about the museum and visited it.
During their visit, they looked at the puppets and listened to Học carefully and with interest when he told them about each puppet as well as its message or the point of view the puppet maker wanted to deliver.

One special guest to the museum has been poet Bằng Việt who is president of the Hà Nội Writers and Artists Association. After a visit, Việt wrote to Học that he was impressed by the way the museum was organised.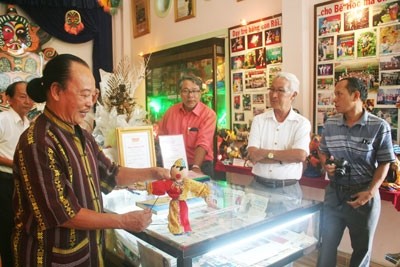 Puppet museum: Artist Dương Văn Học introduces a puppet to visitors to his "The Contemporary Solo Puppetry Museum", the first of its kind in the country. -- Photo provided by Dương Văn Học"When they said the tour helped them understand more about Việt Nam, its culture and art, I was so happy and proud," Học said.
"The museum presents a typical type of culture from northern Việt Nam and Văn Học possesses the typical characteristics of northern feudal intellectuals", Việt wrote.
Học was born in Hà Nội, but left for Khánh Hòa to work with the Phú Khánh Artistic Group. In 1984, he returned to Hà Nội and found his real passion with puppetry.
Keeping his love of beautiful Nha Trang City in his heart, Học returned there to spend his retirement and realise his dream of puppetry preservation.
Besides opening the museum, Học writes books on puppetry and teaches the art to pre-school teachers so they can help spread the love of puppetry to more people, particularly children.
The museum's modest area once hosted almost 30 pre-school kids at once. The narrow space couldn't prevent them from enjoying stories illustrated with small hand puppets such as "Clever goat", "Two goats crossing a bridge", and "Smart bunny".
"The happy eyes and laughter inspired me a lot," he said. The museum also highlights collections of photos and newspaper articles about Học's solo puppetry, and books on the country's time-honoured art of puppetry which he has written over the years.
The museum is open free on Saturdays, Sundays and public holidays. Those interested can phone Học at (+84) 986 071 420 before paying a visit to the museum so that the artist can prepare and possibly offer a "special surprise".
"I do it as I want more people to know about Vietnamese puppetry," he said.