Five interesting films from the Republic of South Africa will be screened at the National Cinema Center at 87 Lang Ha Street in Ha Noi from August 25 to 29.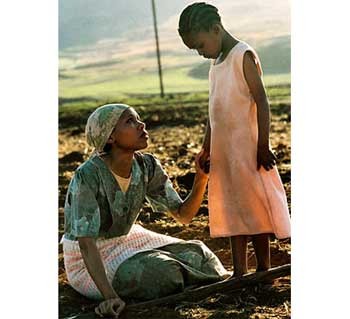 A scene in the film "Yesterday"
The "Days of South Africa's Film" opened with the "Mandela's Unbanning and Release" about efforts of Nelson Mandela, who helped changed South Africa into a democratic country. He was released from Victor Verster Prison in Paarl in 1990 and became the first South African president to be elected in multiracial democratic elections. The event was broadcast live all over the world. This film captures a world historic moment.

"Yesterday" directed by Darrell James Roodt is a story of a woman named Yesterday who struggled against AIDS. After contracting AIDS from her husband, she tried to overcome the fear of death to change her life and take care of her daughter. Yesterday is a story of courage, compassion and hope, set in contemporary South Africa, 10 years after the arrival of democracy. Yesterday is supported by the Nelson Mandela Foundation as part of an HIV/AIDS awareness campaign. The film is introduced on Tuesday.

The next day will be the movie "Cry Freedom" by director Richard Attenborough. The film is based on the true story of Steve Biko (Denzel Washington), a charismatic South African black consciousness, and Donald Woods (Kevin Kline), the liberal white newspaper editor. The film tells about their friendship in hard struggle for freedom awakened the world.

"The Native Who Caused All the Trouble" is a true story about a black man's struggle to get his land back that was lost due to apartheid legislation. The film tells about the conflict between the European and African traditional culture in the 1930s. It will be screened on Thursday.

The last day will be the picture "Kini and Adams" by African director Idrissa Ouedraogo. It is a story about two friends leaving in a village in Zimbabwe who dream of repairing an old car and moving to the city and starting life over. Their friendship must face with problems when they envy each other.
Tickets are available at the South Africa Embassy in Viet Nam, Floor 3, 31 Hai Ba Trung Street in Ha Noi from Monday to Friday at 8:30 a.m to 5:15 pm and the National Cinema Center.