South African jazz singer Hlulani Hlangwane has been in Vietnam since last month, performing at the Sofitel Metropole Hanoi Hotel.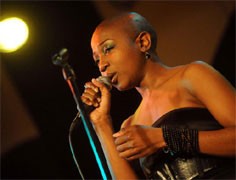 South African jazz singer Hlulani Hlangwane
"It is my first time in Vietnam" she said. "I know there are many jazz music lovers. I hope my music will win their hearts."
The vocalist, arranger and composer fell in love with jazz at a very early age and joined the University of Cape Town (UCT) to learn the music.
While at UCT, Ms. Hlangwane performed with a trio of fellow students and shared the stage with jazz musicians from all over Cape Town.
But later she became interested in other genres like soul, house, and R&B and is now an accomplished performer in all of them.
She also composes contemporary music and arranges jazz and has learnt about studio production.
She will perform in Ha Noi until February next year.