The Da Nang's People Committee inaugurated a special exhibition of Champa sculpture at the Champa Sculpture Museum in the south central coastal province of Da Nang February 27.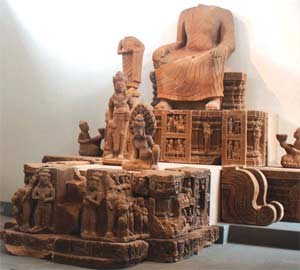 Relics on display at the Champa Sculpture Museum (Photo: SGGP)
The event was also co-organized by the Vietnam Academy of Social Sciences, French Embassy in Vietnam and the L'École Franciase d'Etrême – Orient. 
The exhibition is held in two rooms, 'My Son' and 'Dong Duong,' named after the places where the Champa antiques were found.  
The exhibition has more than 50 valuable and rare items, which are believed to be from the 10th and 11th Centuries. 
Most of the items on display were already restored from the original and were arranged in the rooms in accordance with the modern art.  
This exhibition is the result of two years of work, 'Phat huy di san bao tang Viet Nam' ('Bring into play Vietnam's museum heritage'), by the museum staff in cooperation with Vietnamese and French museum experts. Other expertise came from L'École Franciase d'Etrême – Orient, Guimet Museum, and the National Museum of Cambodia in Phnom Penh.   
The project has been sponsored by the Projets du Fonds de Solidarité Prioritaire, a French government initiative.