Art lovers got to review one-off graphic paintings at the south central costal province of Binh Dinh.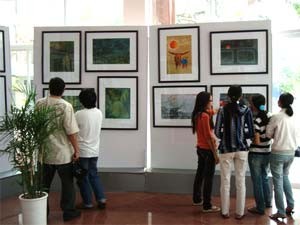 Young visitors enjoy the newest school of art at an exhibition, which opened April 30 (Photo: Tuoi Tre Newspaper)
The exhibition commemorates Liberation Day (April 30, 1975) and celebrates International Labor Day.
Forty paintings by ten local artists were presented to the public for the first time. After the exhibit, eight will be added to the Vietnam Fine Arts Association's collection.
Most of the paintings were warmly received, with Hon bien (Soul of the sea) by Huong Lan, Trang (Moon) by Duy Hong, Bong chieu (Evening shadow) by Dinh Nam and Pho ben song (The little town by the river) by Dinh Tan receiving special attention.
The exhibition will remain open until end of May.
Though the paintings are created on a computer, like canvass painters, each picture is a one-off.