Twenty talented artistes from Southeast Asia and China May 29 performed in a cultural exchange program held by the Ho Chi Minh City Television and China's Guangxi TV in HCMC.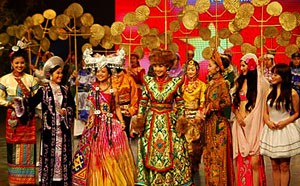 Artistes from ASEAN countries and China present themselves before the audience May 29 in HCM City(Photo: SGGP)
"Duyen dang truyen hinh (Charming TV employees) – ASEAN TPHCM 2009" was created to strengthen cultural exchanges and tightening the relationship between Vietnam and countries in the region.
Artistes from Vietnam, China and ASEAN countries performed special items typical for the cultures of each country.
Singers from Singapore and Indonesia presented youthful, modern pieces, while artistes from Laos, Cambodia, Brunei and Malaysia performed traditional dances and songs.
Two artistes represented Vietnam. They were Linh Nga, who performed with "Dao lieu" (The fate of a woman) dance, and Hong Phuong who sang a folk medley, "Mua xuan va the he tuong lai" (Spring and the future generation).
The most surprising performance was female singer Chen Juan from China, she sang in female and male voices at the same item.
Related article:
Ho Chi Minh City TV seeks to make cultural connection with regional nations