With two days to go before Valentine's Day the city is becoming excited with anticpation. More and more products and entertainment than ever before are being launched in city.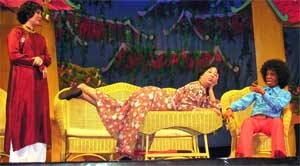 A scene in the comedy Ky Nghe Lay Tay
New Valentine range
Ms. Yen from the gift shop Hanah, said, "Several new gifts have been launched in the market for this Valentine for customers of all different age ranges. The most favorite items are chocolates, snow balls, heart pillows, accessories and jewelry. The items range from VND45,000 to VND300,000."
Some shopkeepers at the Ho Thi Ky Flower Market also expect red roses to sell from VND5,000 to VND7,000.
The entertainment industry is ready for the lovers' day
Many advertisements about upcoming Valentine events have already been posted. In particular, Close Up will hold a special night for 500 couples, 'Da tiec tinh nhan' ('Banquet for lovers'), at Phan Dinh Phung Club, district 1 February 13. It will hold another event a day later at Hoa Binh Theatre, district 10, and will debut the love song concert, 'Hat cho yeu thuong' ('Sing for the love'), by Anh Tuyet and the ATB band.
On the same night, the Lan Anh Music club, district 10, will revive ABBA music with a performance by the Australian ABBA tribute band, FABBA.
Dam Sen Park will also has hold various activities for couples, like 'Gom tinh yeu' ('Terracotta of love') and 'Giai ma tinh yeu' ('Decode love password') with the participation of various comedians like My Chi, Kim Ngoc, and Kieu Linh. There will also be a music show, 'Valentine nong nan' ('Passionate Valentine'), by several of the city's most popular singers, such as Nguyen Phi Hung, Ly Hai, Wanbi Tuan Anh, Nhat Tinh Anh, and Khong Tu Quynh.
The Sai Gon Cruise, through Binh Quoi Tourist Village, is preparing a romantic dinner, 'Da tiec Valentine' ('Valentine Banquet'), with violins and a scrumptious European and Asian buffet.
The theatres are busy, too. The HCMC Theatre Company will present the new comedy 'Nhung cau chuyen tinh tuc cuoi 2' (Funny love stories 2) with a discount of 50 percent for ladies and a lucky draw.
The 5B Theatre, district 3, will not only add one more session for its drama 'Neu nhu yeu' ('If falling in love') but revive the drama 'Song thu' ('Try living as a family').
The Institute of Cultural Exchange with France (IDECAF) theatre chose 'Dua voi bong' ('Playing with the shadow') as their main play for Valentine's day.
The 'Meritorious Artiste' Hong Van keeps her three play program unchanged with 'Ky nghe lay Tay' (Skills to marry foreigners'), 'Chuyen chung cu' (Tenement's story') and 'Tien oi lay tien' ('Oh money, money') on her two stages Phu Nhuan at Phu Nhuan district and Kim Chau at district 1 during the Valentine season. The plays are sold out.
The 'cai luong' artistes cannot stay at home on Valentines day since most of them will participate in the series 'Nhung doi tinh nhan tren san khau cai luong' ('Couples on cai luong stage') which consist of various extracts from popular cai luong plays, like 'Luong Son Ba – Chuc Anh Dai', 'Ben cau det lua' ('Weave silk on the bridge') and 'Giac mong dem xuan' ('Spring dreams').
Currently cinemas are carrying out several promotions for their programs. The new movies are 'Chuyen tinh xa xu' ('Untitled love story'), described as a romantic comedy set in modern day Saigon, Orange County in the US and 'The curious case of Benjamin Button' which tells the story of Benjamin Button, a man who starts aging backwards with bizarre consequences.
Megastar Cinema at CT Plaza, Tan Binh District, will offer 30 percent off and a free ball-point pen for any purchase of 2 tickets or more. The promotion continues until Valentine's Day. In addition, the cinema will also have a free photo shoot for couples from 3pm to 9pm on Valentine's Day.
Meanwhile, the two Galaxy cinemas in district 3 will offer 300 coupons for meals at Barbecue Garden for the first 300 guests over February 13-14.
Saigon Media will give free cake and ice-cream for any tickets for the movie 'Dep den tung centimet' ('The beauty in every centimeter') at Thang Long cinema, district 3.
Book lovers will also have some gift options as new books have been promoted. The publisher 'Tre' ('Young') will present a book collection, 'Loi muon noi' ('The secret words need to be said'), with the slogan 'something sensational for Valentine.'
Moreover, the publisher will publish the Vietnamese-translated, most-wanted novel 'Sac, Gioi' (Lust, caution), written by Chinese writer Eileen Chang. The book is the love story of a young student and former actress named Wang Chia-chih, acting as a spy, and the traitor Yee in Shanghai during the World War II.
Related article:

Market abuzz with Valentine's Day offerings