An exclusive program of concerts and exhibitions will commemorate the 10th death anniversary of musician Trinh Cong Son in Ho Chi Minh City, Ha Noi and Hue from March 18 to April 20.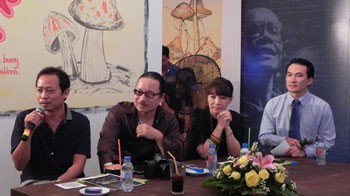 A press conference of the special program commemorating musician Trinh Cong Son is organized on March 7.

A concert titled Bong nui (The shadow of mountain) featuring video clips of Vietnam's most famous and beloved song writers will be held at Ho Chi Minh City Opera House on March 18 and Hanoi Opera House on March 25.

Singers Cam Van, Thanh Lam, Hong Nhung, My Linh, Quang Dung, Duc Tuan, Nguyen Thao, Anh Bang, Trong Tan, the Cadillac band and the Friendly group will join the show.

Tickets are available from VND1 million to VND3.5 million (US$45-150) per person.

Four free music performances named "Hue-Saigon-Hanoi" will open for the public at the Binh Quoi Tourist Area in Ho Chi Minh City on April 4, for students at the Vietnam National University in Hanoi on March 27, at the Nghinh Luong Temple in Hue city on March 30 and at the Vietnam National University in Ho Chi Minh City on April 7.

Music lovers will have a chance to enjoy popular songs performed by Thu Minh, Doan Trang, Kasim Hoang Vu, Phuong Linh, Viet Thanh, Uyen Linh and Lan Nha.

A painting exhibition featuring pictures of Trinh Cong Son and his works will be held at the HCM City Fine Arts Museum on April 2-10 and at the Hue Morin Hotel on April 15-20.

The event is co-organized by musician Trinh Cong Son's family, Thanh Nien Media Corporation and the BHD Joint Stock Company.
Related articles:
Concert to commemorate death anniversary of musician Trinh Cong Son
Musician Trinh Cong Son's painting retrospect