The Viet Nam Fashion Design Institute will hold its annual Viet Nam Spring & Summer Fashion Week at the Ha Noi Sofitel Plaza from Thursday until April 2.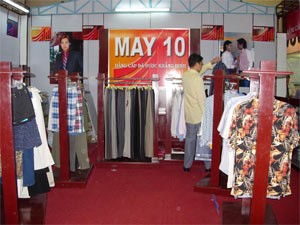 There will be collections from the Garment 10 Joint Stock Co. on March 31. (Photo:KK)
On show will be the work of 30 young designers from around the country, names like Minh Hanh, Minh Khoa, Trong Nguyen, Thu Giang, Hoai Sang, Nhat Huy, Anh Vu, Huyen Mi, Viet Lien, Nhat Minh and Quoc Binh.
There will also be collections from the country's leading clothes manufacturers: Viet Tien on March 30, Garment 10 Joint Stock Co. on March 31 and Phuong Dong Joint Stock Garment Co. on April 2.
In vogue this spring and summer are light colors and natural materials such as cotton in plain and denim form. Miniskirts too are said to be making a comeback, not that they ever went away. As far as the designers are concerned, the adjectives for this season are neat, comfortable, feminine and modern.