A stamp exhibition themed "The Party, Uncle Ho and Vietnam People's Army" is being held in Ho Chi Minh City to mark the 64th founding anniversary of the People's Army.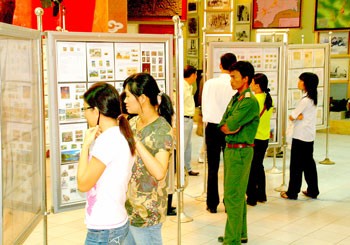 Visitors are contemplating collections of stamp.
On display are 33 collections with more than 8,000 stamps, postcards, and others objects belonging to 28 philatelists.
They include rare stamps like the collection themed "Stamps of the National Front for the Liberation of South Vietnam and Provisional Revolutionary Government of the Republic of South Vietnam", a series on President Ho Chi Minh's life and career, and another on the struggles in the South.
The exhibition is being organized by the Philately Association of HCMC and the Political Department of the Military Zone 7 at the Southeastern Armed Forces Museum, 247 Hoang Van Thu Street.
The event also marks the 15th anniversary of the Entire-Population Defense Festival and 63rd anniversary of traditional day of the Military Zone 7.