French classical guitarist Gabriel Bianco will perform at IDECAF (L'Institut d'Echanges Culturels avec la France) in HCM City on May 22.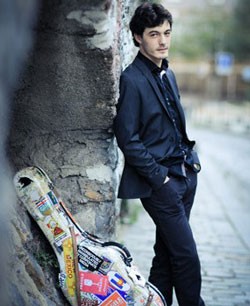 French classical guitarist Gabriel Bianco
Bianco, 26, has established himself as one of the most active guitarists of his generation, with his constantly-updated repertoire comprising both original works and transcriptions covering all periods of classical music.
He was awarded the "Classical revelation ADAMI" prize in 2011, and has gone to win eight prestigious international competitions --notably in Austria in 2006, US in 2008, and Spain in 2011.
He has performed all over the world (Tchaïkovsky Hall in Moscow, Central Conservatory of Beijing, Herbst Theatre at San Francisco, The Luis Angel Arango Library at Bogota, The Centre Culturel of Sao Paulo, in Bucharest with the Romanian National Orchestra, the Auditorium of the Music Academy at Poznan).
He has also performed in some 40 international guitar festivals (France, Germany, Spain, Italy, Czech Republic, Slovakia, Hungary, Poland, Romania, Greece, Russia, Thailand, India, Peru).
His first CD was released in 2009 by Naxos to high praise in the musical media.
He teaches at the Maurice Ravel Conservatory and the Jean-Philippe Rameau Conservatory in Paris.