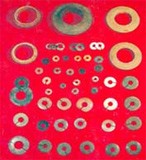 Stone Jewelries

The Archaeologists of Da Lat University, Lam Dong Museum and Department of Information and Culture have just discovered the remains of a stone tool manufacturing workshop and stone jewelries of prehistoric people in Gia Lam ward, Lam Ha District, Lam Dong Province, in the excavation on April 6 to 9, 2006.


In the excavating hole 1, they found grater, quadrilateral axe, stone bracelet, etc at the depth of 30-35 centimeters.
Especially, there was a white stone axe which was whetted smoothly. It shows the ancient prehistoric people's advanced manufacturing skills.