Switzerland's top choir, the male "Lundi 7 heures", performed at the Youth Theater in Ha Noi on October 21.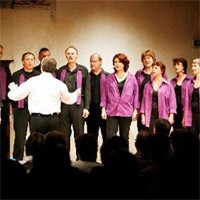 The "Lundi 7 heures" choir
Twenty three works presented in the Acapella style gave an insight to Vietnamese music lovers into Swiss culture and music.
The choir, established in 1999, has 16 members and is led by musician Pierre Huwiler, who is also a composer and conductor and is known for his mixture of folk music and classical melodies.
He has composed more than 200 works and conducted symphony orchestras in Switzerland and abroad.
The group, whose name translates into "7 a.m. on Monday," often rehearses at that time. It has released three albums and toured Russia, France, Brazil, Bolivia, Germany, Spain, and Canada.