The annual "In Step Impression"- an exhibition, organized by 5P Club's famous painter, Nguyen Thi Tam, aimed at creating opportunities for young and amateur painters to meet and interact with renowned painters - opened November 11 at 92 Le Thanh Ton Street, District 1, HCMC.

This year's exhibition consists of 95 works of 14 artists focusing on the countryside landscapes of southern Vietnam.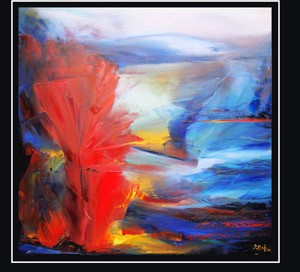 A painting by Tran Thuy Linh at the show
Among the many talented artists presenting their work is architect/painter Co Van Hau, whose paintings are a blend of classical features and modern technique and Nguyen Nhu Khoi, Nguyen Thi Tam's son, who is presenting his latest works of art featuring the Vietnam market.
Tran Thuy Linh, an attendee at the international exhibition in Korea last year, is presenting oil-on-canvas paintings. These romantic and abstract works convey an underlying message of protecting the environment and preserving nature.
Linh will be participating in the upcoming international exhibition in Singapore on January 1, 2012 with fellow artist, Nguyen Thi Tam.
"In Step Impression" will run to November 21.