About 60 restaurants, hotels, tourist agencies from 20 countries and territories participated in the 'Taste of the World' culinary festival that took place at the September 23 Park on December 6.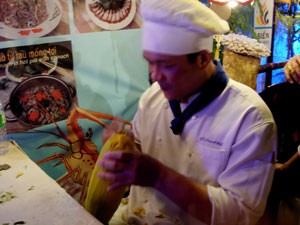 A cooking performance (Photo:SGGP)
This annual event is organized by the Department of Culture, Sports and Tourism and Tourism Association in Ho Chi Minh City with the aim to introduce and honor the best chefs and cuisines of the world, besides also honoring the culinary culture of Vietnam.
Coming to the festival, visitors can taste a lot of traditional delicious foods from South Vietnam and foreign foods from Thailand, France, Korea, Malaysia, and Germany.
Ta Thi Quynh Tram, a student of University of Pedagogy in Ho Chi Minh City said that she visited the festival at September 23 Park early to taste the many good foods. She said many food booths were decorated beautifully and attractively.
Besides, many attractive activities were also held at the festival, including dancing performances by dancers from Malaysia, and display of sculptures made from fruits and vegetables.