Ethnic groups from the highland province of Gia Lai congregate at the Tay Son Thuong Dao historical site in An Khe Town every year on the fourth day of the first lunar month, to celebrate the Ngoc Hoi-Dong Da victory of Qing invaders.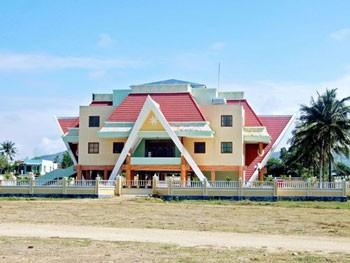 tay Son Thuong dao Museum in the historical site(Photo: Binh Dinh newspaper)
According to historical data, the Tay Son area was part of Quy Nhon District (now known as Tay Son District in the central province of Binh Dinh). The western zone, surrounded by thick forests and steep mountains, was called Tay Son Thuong Dao (now An Khe and Krong Cho towns in Dak Po and Kbang districts of Gia Lai Province).
As story goes, the three brothers from the Tay Son area, Nguyen Nhac, Nguyen Hue (who later became known as Emperor Quang Trung) and Nguyen Lu formed an army in 1771. The trio became famous as the Tay Son brothers ('Tay Son' literally means 'Western Mountains').
The trio set out to save the country from destruction by rising against the existing government run by the Nguyens in a revolution at Quy Nhon and succeeded in annexing a large area of land from Quy Nhon to Binh Thuan Province.
The Tay Son Thuong Dao site has many passes through mountains and forests leading to the Northern provinces and innumerable paths along streams and rivers connecting the area with southern central provinces, which helped the Tay Son troops win their battle.
The 200 year old historical and cultural vestiges of the Tay Son complex still exist, including the ancient bastion in An Luy commune, the orange garden covering more than 10 hectares with century-old trees and the Mo Dieu islet known as a home of birds in Co Hau.
An Luy people commemorate the Tay Son brothers on the second lunar month. Tay Son Thuong Dao is today recognized as a national historical site attracting a large number of local and foreign visitors. Many folk cultural events, especially the Ngoc Hoi-Dong Da victory festival are held in the area.