A concert featuring central highlands music was the highlight of a tea cultural festival opening ceremony in a Lam Dong Province town yesterday.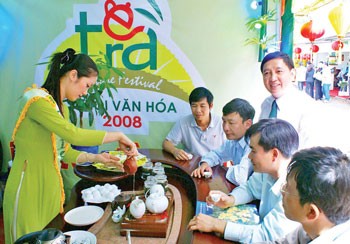 Visitors enjoy tea-making art at the festival.  (Photo:SGGP)
The B'lao Tea Fragrance festival sent the highlands town of Bao Loc pulsing with fireworks, a procession of flower-bedecked cars, and the jubilant sounds of instruments like T'rung (bamboo xylophone), flute, dan da (stone music instrument) and gongs performed by the Lam Dong traditional music troupe.
"The tea festival is a good opportunity to promote Vietnamese tea and compare notes on producing and selling this beverage," said Truong Van Thu, deputy chairman of the Lam Dong People's Committee and head of the event steering committee.

"It is also a chance for local and international visitors to enjoy a special drink that is good for health and is central to local culture."

The festival will feature various activities including a photo exhibition, fashion and musical shows, discussions on tea-planting and -processing techniques, a beauty contest, folk games, and others.

It will last until December 7.


Related article:
Bao Loc festival to celebrate Vietnamese tea