Foreign tourists can look forward to many interesting events to celebrate Tet (Lunar new year) in Hoi An town in the central province of Quang Nam.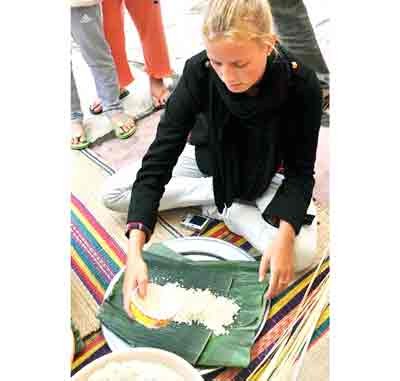 A foreign tourist is making banh chung to ehlp the poor in Town Hoi An in the central province of Quang Nam (Photo: SGGP)
The People's Committee of Hoi An town in the central province of Quang Nam and the Sports Center  held the Qua Tet (Gifts for Tet) festival to cook and wrap banh tet(cylindrical glutinous rice cake) for 800 poor households in the town on January 30 and 31( December 27 & 28 on the lunar calendar). 15 agencies and many foreign tourists participated in the festival. Those who did not know how to cook were taught by skilled persons.
Some 350 traditional cakes were handed to the poor in the town. Also the town leaders presented 800 gifts to poor households in Hoi An. Gifts included banh tet, cooked oil rice, cakes and sweets worth VND320, 000.
The Cultural and Sports Center promised to launch many cultural activities during the Tet festive season. It will also hold the lantern festival 2011, in which artisans will compete with each other to showcase their talents in making beautiful lanterns.
The competition will wrap up on January 14 (lunar calendar) when the organizers will give prizes to the most skilled artisans. During these Tet holidays, folk games like beating earthen pots and singing traditional songs are also part of the events for tourists to join in.
Among a series of planned activities to welcome Tet, foreigners can also enjoy a home-stay experience. Tourists can view traditional customs of the Vietnamese people by accompanying their host to the market to buy ingredients to make traditional jams, decorate the house with pictures and scrolls and spend the evening learning how to cook banh tet and banh chung (stuffed sticky rice cake).