Unique art performances representing solidarity and friendship between Viet Nam and Cambodia by Vietnamese artists opened Vietnamese Culture Week in Phnom Penh, Cambodia Monday.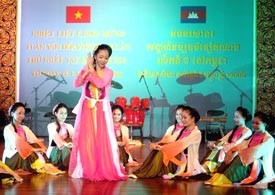 Dancer Linh Nga performs a Vietnamese dance at the opening ceremony
More than 20 artists performed folk dances, songs, traditional music played on traditional instruments, as well as a fashion show, circus acts and much more.
The performance of two Cambodian songs--"Ocpo Sato" (Warm welcome) and "Oxvai Chan Ti"—brought pleasure to Cambodian audiences. The successful culture week will leave a strong impression on the neighboring country.
"We, Viet Nam's government officials who are taking charge of information and culture, always highly appreciate consolidating and strengthening cooperative art, culture and information activities to promote the knowledge and friendship between two countries' peoples," said, Mr. Le Tien Tho, Viet Nam's Deputy Minister of Culture and Information.
The opening ceremony was held at Chak Tumuk Meeting Hall with the attendance of Ms. Chumteav Men SamOn—Senior Minister of Parliamentary Affairs and Inspection—and Prince Sisovath Panara Sereyvuth—Minister of Culture and Fine Arts—as well as delegates of Royal Government of Cambodia.
On the Vietnamese side there were Mr. Le Tien Tho and Mr. Nguyen Chien Thang, Viet Nam's Ambassador to Cambodia.

Related article:
Cambodians to Sample Vietnamese Culture