Thirty young women will participate in the final round of the Miss Viet Nam beauty contest to take place at the Hoai River Square in the ancient city of Hoi An from August 19 to 30.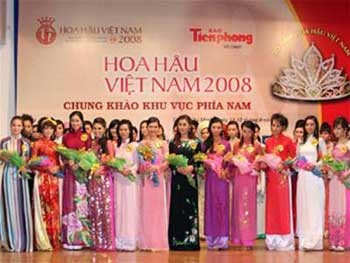 Fifteen young women of the South of the country are selected in HCMC yesterday for vying the Miss Viet Nam Beauty Contest 2008.
Selected from hundreds of entrants in regional rounds, the beauties will have to spend 11 days in the UNESCO-listed heritage site, which is located in the central province of Quang Nam.
Though every contestant is vying for the main title above all, there are also the Miss Photogenic, Miss Sea and Miss Earth titles to be won, according to the organizing board.
They will take part in swimwear, ao dai (Vietnamese dress) and gown and interview rounds to be held during the pageant.

A 5,000 seat floating stage will be built on an area of more than 600 square meters for the grand finale, added Mr. Tran Minh Ca, deputy chairman of the Quang Nam People's Committee.

This is the peak of the tourist season, so the pageant is expected to attract a large number of visitors, said Mr. Duong Xuan Nam, head of the organizing board.

The Miss Viet Nam Pageant, held every two years since 1988, is the country's most prestigious beauty contest. It is organized by Tien Phong (Vanguard) newspaper.