Thousands of local people and visitors took part in a series of cultural activities which is being held during Hue Festival 2014, on April 13.
Knitting traditional non la (palm-leaf conical hat) of Vietnam at the ancient market of Thanh Toan Tile Bridge. (Photo: Sggp)

In early morning crowds flocked to replicas of ancient markets of Thanh Toan Tile Bridge in Huong Thuy District. Many local specialties such as rice, glutinous rice, rice wine, bean, corn and fruits are displayed on small boats and stalls.

It is also a chance for tourists to enjoy the daily activities of farm life and traditional dishes in rural area.
People have flocked to Hue City Center leading on to main streets such as Hung Vuong, Le Loi, Nguyen Dinh Chieu and Tran Hung Dao to participate in street festivals and art performances by international artists, such as Stilt walking group De Koninklijke Steltenlopers Merchtem from Belgium, Nadarzyn orchestra of Poland.

The event featuring many musical and dancing genres will be held on main streets starting on April 13,15,17 and 19.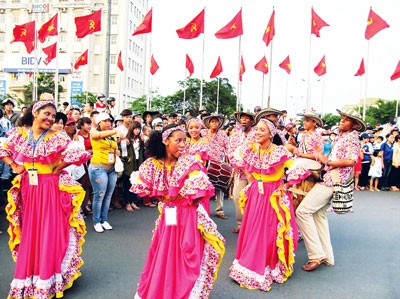 An international art troupe performs on street. (Photo: Sggp)
According to Standing Deputy Chairman of the Provincial People's Committee Ngo Hoa , Head of the organization board of Hue Festival 2014, local and foreign art troupes will travel to remote areas in Thua Thien-Hue Province, including Phu Vang, Phu Loc, Nam Dong and A Luoi for performances during the festival.
So far 45 art troupes from 35 countries and five territories from around the world have participated in the biennial Hue Festival in Hue City of Thua Thien-Hue Province.
The nation's biggest cultural event is expected to welcome 2.8-3 million tourists, including 1.2-1.3 million foreign visitors.