Thousands of domestic and foreign tourists flocked to the 'Festival in the Clouds 2012' in the mountainous tourist town of Sa Pa, which will be held from April 28-May 4.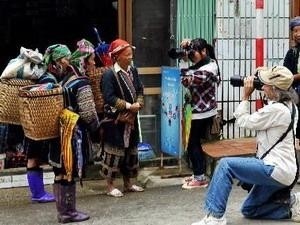 Visitors take photos of ethnic minority groups in Sa Pa (Photo:VNA)
On April 29 alone, 5,000 visitors attended the festival, and this year the management committee of the festival expects to welcome over 12,000 visitors.

The festival this year includes many special shows featuring the traditional cultures of ethnic minority groups in Sa Pa such as the Giay, Mong and Zao communities, as well as offer interesting and unique local cuisines and folklore.

Visitors will have a chance to attend the Sa Pa Love Market Night, enjoy local folk songs and dances, play traditional games and try their hand at working as a local farmer for a day.

A highlight of the festival is the special programme 'One-day farmer in Sa Pa', where participants have the opportunity to be directly engaged in production activities with the locals, like seeking forest medicinal plants, learning brocade-making and embroidery and practicing ethnic cooking styles.

Le Duc Luan, Chairman of the People's Committee in Sa Pa District said the area is trying to focus on its ethnic culture and traditions to boost local tourism. So far Sa Pa has organised a Khen (pan-pipe) contest and developed community tourism in villages.

In addition, the festival features musical performances and folk games by ethnic minorities like Mong, Dao, Tay, Giay and Xa Pho communities living in Sa Pa in northwestern Vietnam in Lao Cai Province.

With beautiful weather and outdoor temperatures ranging between 25-27 degrees Celsius, many visitors are excitedly walking around and posing for photos around the ancient town and Xuan Vien Lake, two must-visit destinations in Sa Pa, and also enjoying native cuisines.