Three movies won the Silver Kit Prizes at the 2014 Golden Kite Awards, the annual Vietnamese film awards organized by the Vietnam Cinematography Association took place in Ho Chi Minh City on the evening of March 12.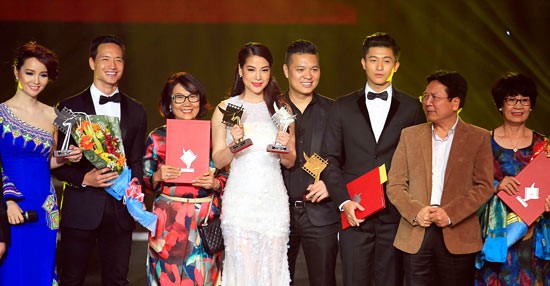 Winners of the 2014 Golden Kite Award

They included Nhung Dua Con Cua Lang (Children of the Village), Huong Ga (Rise) and Lac Gioi (Paradise in Heart).

There were any featured films to choose for the Golden Kite Award.

The film Nhung Dua Con Cua Lang (Children of the Village) was also presented the best feature film award voted by the press.

Ngo Quoc Cuong won "best director", and "best actress" went to Truong Ngoc Anh for the movie Huong Ga (Rise).

Trung Dung took "best actor" for his role in the film Lac Gioi (Paradise in Heart).

Actor Huy Cuong and actress Kim Xuan were named "best supporting actor" and "best supporting actress".
Actor Son Tung and actresses Binh An and Ngoc Thanh Tam got "Most Promising Actor" and "Most Promising Actress".

In the TV series category, the Golden Kite prize was presented to Director Phuong Dien's Cha Roi (Single Fathers). Quach Khoa Nam received the Best Director award for his 35-episode series Nguoi Chong Dien (Mad Husband).

"Best actor" and "best actress" went to Thai Hoa and Bao Thanh.

Films Cau Be Co Lau (The Boy and Reed Grass), Co Gai Tren Tang Thuong (The Girl on the Rooftop) and Giot Nuoc Giua Dai Duong (A Drop on the Ocean) were named "Best Animation Film", "Best Short Film" and Best Documentary respectively.

The annual movie award honoring Vietnam's best filmmakers attracted three film essays and 137 films, including 17 featured films, 18 TV serials, 7 short TV serials, 14 cartoon movies, 4 celluloid documentaries, 48 video documentaries, 7 science documentaries and 29 short films.

This year's award ceremony commemorated People's Artists Ngo Manh Lan and Nguyen The Anh.