Three prizes of the"Sao Mai Diem Hen" (Morning Star Rendezvous) Music Contest, including "Best Singer" by the judgement board, "Most Promising Singer" and "Most Favorite Singer" by audiences went to Pham Anh Khoa, Ha Anh Tuan and Nguyen Hoang Hai, respectively
.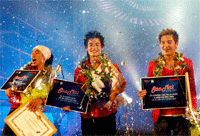 Pham Anh Khoa (L), Ha Anh Tuan (M) and Nguyen Hoang Hai (R)
Student-singer Ha Anh Tuan won the hearts of female audiences with his romantic songs and impressive performance. Meanwhile, Nguyen Hoang Hai has many strong points of a market singer and professional performance. During three months, these hot boys competed with each other for every vote from the audience. They firstly attracted female spectators with their good appearance and rich voice.
Rocker Pham Anh Khoa has completely won the hearts of the jury and audiences with his strong voice and blazing performing style. He almost received the top marks from the jury.
The contest ended with a music gala on August 19 at Hai Ba Trung Indoor Sports Stadium in Ha Noi. The stadium resounded with cheers with the attendance of 12 contestants, who took part in the first final round, in this music festival.
Related article:
'Sao Mai Diem Hen' Music Contest Ends 1st Final Round