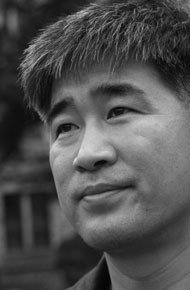 Writer Bang Huyn Suk
Just through 2 medium-length stories, about 300 pages, the book is almost able to generalize the writer's meditations about the mysterious country that he has made every effort to find out in his mind for 10 years.
During his 20 visits to Viet Nam, a country that is far poorer than his, he was determined to search for the real essence of this poor country that could not be discovered easily from outside.
But what's in Viet Nam that has attracted him so much? He has met a lot of Vietnamese people from all walks of life: Northern, Central and Southern, the good and the bad, but with a writer's profound view, he was able to perceive exactly the most essential character in Vietnamese spirit.
The writer started his search for Vietnamese spirit through 100 pages on "Forms of existence". It is not really a story but in fact, is a collection of thoughts from Che-U, a Korean young man, in a team of 3 members: Che-U, Hy-Un, a Korean girl, and Le Ngoc Thien, a Vietnamese director.
They together translated a Korean film scripts into Vietnamese. At first, the story seems to be confined merely to language comparison, but finally it is the beginning of Vietnamese war reminisces, for what they are translating is a film scripts about Korean Army in the war, and Le Ngoc Thien was a Truong Son soldier.
The author contemplated his Vietnamese friend and was so eager to break into the inner world of a whole generation that he has admired very much. In his eyes, Le Ngoc Thien was an embodiment of Vietnamese spirit in the anti-US war for Viet Nam's independence.
Therefore, he focuses his attention on that man to make out the desultory stories of the Truong Son in those days with forest marsh fevers and long-lasting days of starvation that eased only with wild vegetables.
Also, through Le Ngoc Thien, the writer can comprehend why there were continual waves of people keeping on the struggle of those who had passed away. "Keep going and you will reach the finish", just a short statement embedded deep in everybody's heart with the strength of will.
That is the eternity of Vietnamese people, which comes to its pinnacle in the conversation between Mun-The, his friend and Le Ngoc Thien. This man views Viet Nam through a daily life of a little lottery ticket seller and asks: "You did not struggled so much just to live a life like that, did you?", Le Ngoc Thien replied: "We have just finished our jobs."
Now there come duties of the next generations. The day I joined the army, my mother just said: "Son, live like a man, other people may hate you, but they cannot despise you".
And it really is the beautiful existence of human beings; it enables Mun-The to comprehend more about Viet Nam, where, in his eyes, people are still living in the poverty. "Do not let anybody despise you" and "Have a heart" are the first two Vietnamese phrases Mun-The learns from Viet Nam.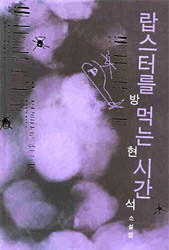 Cover of the book "Time to Eat Lobster"
With "Time to Eat Lobster", the writer has come with Kon-Suk, a Korean young man whose girl friend is an ethnic girl working as an interpreter for Choson-sho Shipbuilding Company, to settle a conflict between company's leaders and employees.

The conflict was led by Vo Van Loi, who has 32 shell fragments in his body. Kon-Suk is able to understand the miseries of Tra Tinh, a Vietnamese village that was massacred bloodily by the White Tiger soldiers, a Korean division, and Loi is one of the three survivors after the event.

Otherwise, Kon-Suk's father died in the Vietnamese war as a soldier of that bloodthirsty division, so he was very surprised and respected for the toleration of Tra Tinh people nowadays when they saw him, a Korean young man, in the village's memorial ceremony.
Bang Hyun Suk has shown Korean stricken consciences by letting Vietnamese criticize his country. He made a warning to his own country when Korea was forced to send troops to Iraq: "We already know that the U.S. is not right, but we are not strong enough to go against their decisions".

"Despite of the opposition, our government still sent troops to Iraq. The Vietnamese have far more difficulties than we do, but they had acted according to their responsibility".

"I don't know what you will get from Iraq; but from now on, I can confirm that you will lose something, which is first your personal dignity and then the national dignity".

"Time to Eat Lobster" is the best-seller story in Korea in 2003.

Of course, with the Vietnamese translation and with what the writer does not fully know about the highland people, mistakes in people names, personalities and dialogues are unavoidable.