The 4th Toyota Concert Tour Vietnam 2010 will take place in four big cities from July 7 to 25.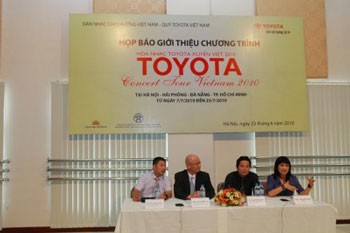 Press conference on Toyota Concert Tour Vietnam 2010 is organized in Hanoi on June 23.
This year's theme will focus on works of Hanoi to mark the grand celebration of the capital's 1,000th anniversary.
Famous songs of Hanoi such as Nguoi Hanoi (Hanoi people) by Nguyen Dinh Thi, Hoa sua (Milk flower) of Hong Dang will be performed by pop diva Thanh Lam under the baton of Japanese conductor Tetsuji Honna, Art director and main conductor of the Vietnam National Symphony Orchestra (VNSO).
Music lovers will have also a chance to enjoy the well-known works of great composers such as Valse des Fleurs from Ballet "Nutcraker," Sene (Act II) and Dance Neopolitane from Tchaikovsky's "Swan lake"; Overture "Poe and Peasant" by Franz von Suppe; Les Toreadors from Georges Bizet's "Carmen," Die Moldau by Bedrich Smetana and others.
Ticket prices range from VND150,000 (US$7.5) – VND300,000 (US$15) (available at the address below) with all proceeds going to the Toyota scholarship for Vietnamese young music talent 2010. The tour is supported by Toyota Viet Nam Foundation.
The Trans-Viet music show will be held at Hanoi Opera House on July 7 & 8, Hai Phong City Theater on 20, Trung Vuong Theater in the central coastal city of Da Nang on 23 and Ho Chi Minh City Opera House on 25.