An archeological excavation at the relic site Pu Luon Xe in hamlet 7, Tan Linh commune, Luc Yen district in the northern mountainous province of Yen Bai led to the discovery of a kiln making building materials said to belong to the Tran Dynasty.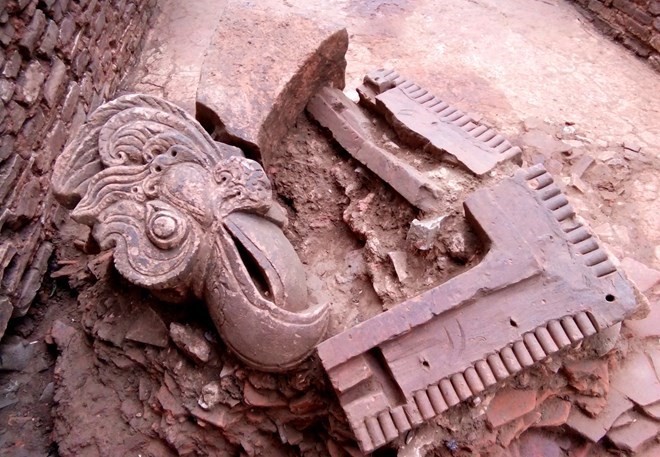 A decorated artifact found at the kiln at the Pu Luon Xe relic site in the northern province of Yen Bai. (Source: VNA)
The information was released on December 20 at a meeting on the initial results of the excavation, which began on October 27, 2016, held by the Research Centre for Imperial Citadel (RCIC) under the Vietnam Academy of Social Sciences and the Yen Bai Province Museum.
The kiln was used to produce various architectural materials from bricks, tiles, to baked statues and types of ready-made towers used for architectural works in the relic sites the Hac Y hill and the Ben Lan pagoda, which are national relic sites in Luc Yen district recognised in 2001.
Building materials and products of the kiln are all dated back to the 13th-14th century in the time of the Tran Dynasty.
Associate Prof. Dr. Bui Minh Tri, director of the RCIC, said this is the first time a building material kiln in the Tran Dynasty has been excavated in the northern region.
The discovery and excavation of the kiln will provide materials for a new direction for the research work on the production of architectural materials in the Tran Dynasty.
The result of the excavation will contribute to educating local people on managing, preserving, and promoting the values of the relic site.
In 2011, the Yen Bai Province Museum collaborated with the Vietnam Institute of Archeology carried out surveys at the Pu Luon Xe relic site.
After digging 11 survey holes in the area at the base of a hill, signs of a row of bricks and an old brick wall were detected. By 2015, the museum and the RCIC continued surveying the relic site and discovered many pieces of bricks, tiles, and decorated patterns.